Adult Bean Bag Chairs are certainly not a new contender in the world of furniture, but our new collection certainly challenges the designs of old. Best of all, we have designed some of our new range just for adults. Here are our top bean bag chairs for adults.
Large Komfort Triangle Bean Bag
Mooi Living's large Komfort Triangle has been designed BIG so that the entire family can get comfy. The Large Komfort is especially good for those tall humans looking for a comfy floor sofa to get cosy on. Measuring: 165cm(L) x 135cm(W) x 135cm(H).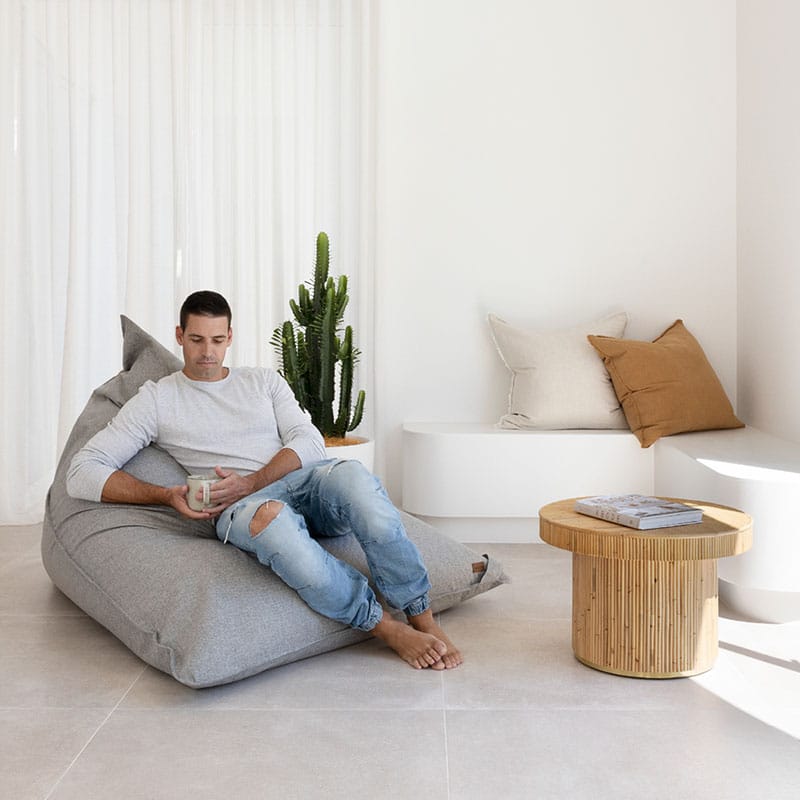 Vintage Chair & Ottoman
One of our all-time best sellers, the Vintage Chair & Ottoman not only looks great in virtually any living area, it is also insanely comfortable for both adults and children alike.
What makes this a great adult's bean bag? Well, we've made our vintage chair slightly bigger, so that you can really sit back and relax. Combine this with the fact that you can raise your legs and rest them on the accompanying ottoman.
Alternatively, you can use the ottoman as a side table to rest your vino or hot cuppa. Either way, this set up allows you to sit back in absolute comfort. The Vintage Chair is a great reading chair.
Snug Bean Bag Chair & Ottoman
The Snug Bean Bag Chair & Ottoman set is a new addition to our indoor range, and just like the Komfort Large, we have designed this bean bag chair to be BIG – making it the perfect bean bag chair for all adults. The Snug also comes complete with an ottoman, so you enjoy the benefits of being able to raise your legs and really get comfortable.
The Snug comes in 4 beautiful colours and looks amazing as an armchair in your living room. The bean or foam filling (sourced separately) will mould to the contours of your body and provide for an incredibly comfortable place to sit back and relax.
Chill UV Lounger
The Chill UV Lounger is one of our trendy outdoor bean bag designs. The Chill UV is a double seater outdoor lounger. Great for those who want ample space to just lounge about … or for those who want to snuggle up with their loved one.
The Chill UV is made from 100% Olefin fabric, a durable fabric that is UV protected and water & mould resistant. Mix and match this piece, and you will have the best outdoor furniture setting. Great for those adults looking for a contemporary look for their outdoors.
Cojelo Suave
Oh the serenity of this gorgeous sun lounger. Featuring an upright back, you can be rest assured you will enjoy many a vinos in this beautiful piece. Whether it be poolside or just lazing in the garden, the Cojelo Suave is the perfect place to enjoy the outdoors. Watch the kids as they splash in the pool or enjoy a grazing platter on the balcony with that someone special. Made from 100% Olefin fabric you can be rest assured this piece will be protected from the natural elements. Additionally, measuring 170cm in length, this gorgeous sun lounger will comfortably seat the tallest of tall. 
Bora Bora Chair
Feel like an escape? We can't possibly take you to Bora Bora (though we would love to), but we can sure make you feel as though you are visiting one of their resorts with the gorgeous Bora Bora Chairs. We have made these single chairs roomy so that it is pure comfort for all. The Bora Bora is great a single chair, but AMAZING as part of a set. Get two or three combined with our outdoor ottoman, and you will have the perfect outdoor setting for entertaining.
At Mooi Living we have recreated the iconic bean bag, but we have made it so much better! Our designs have been made big so that both adults and children alike can enjoy the comfort. So if you are looking for the perfect adult bean bag for your living room, media room or bedroom, then make sure to check out our range today.